THE WRITEREFLECTIONS STORY
"Less than 30% of grade 4, 8, and 12 students in the nation are proficient in writing."
NATIONAL CENTER FOR EDUCATION STATISTICS, 2002 AND 2012
In 1995, Melinda Michalec, a teacher at North Lakeland Elementary, a Title 1 school in Florida, was promoted to school writing specialist. Her goal was to improve writing proficiency at all grade levels, for all students. At the time, this school had a 14% student pass rate on the grade 4 state writing test, a 64% free and reduced lunch rate, a 45% mobility rate, and a 39% minority rate.
After attending workshops, reading research papers, and searching for effective writing programs, she decided to develop her own curriculum. She engaged with teachers and students at all levels to build a scaffolded program that would be easy for teachers to implement and fun for students to use.
After five years of development, WriteReflections was born. The chart to the left shows the improvement in student writing at North Lakeland as the program was built. In 2000, Michalec began offering WriteReflections to schools across the nation. These schools began to see dramatic results – many doubling their writing proficiency rates in a year or two, and many achieving 100% proficiency.
Since its launch, the program has been continuously updated with the addition of classroom PowerPoints, text-response writing (to meet Common Core and state standards), and a highly successful middle school/high school writing curriculum.
Schools around the country have seen astonishing results with WriteReflections. Here are samples of writing scores at two schools using the program…
RESEARCH BASED, EXPERT VALIDATED
WriteReflections was developed based on methodologies that are grounded in research, such as a spiraled scope and sequence, color-coded system, and five-day writing rhythm. Over the years, we have engaged national education experts to validate and improve our program. Here is what they have to say (contact us for the full research papers)…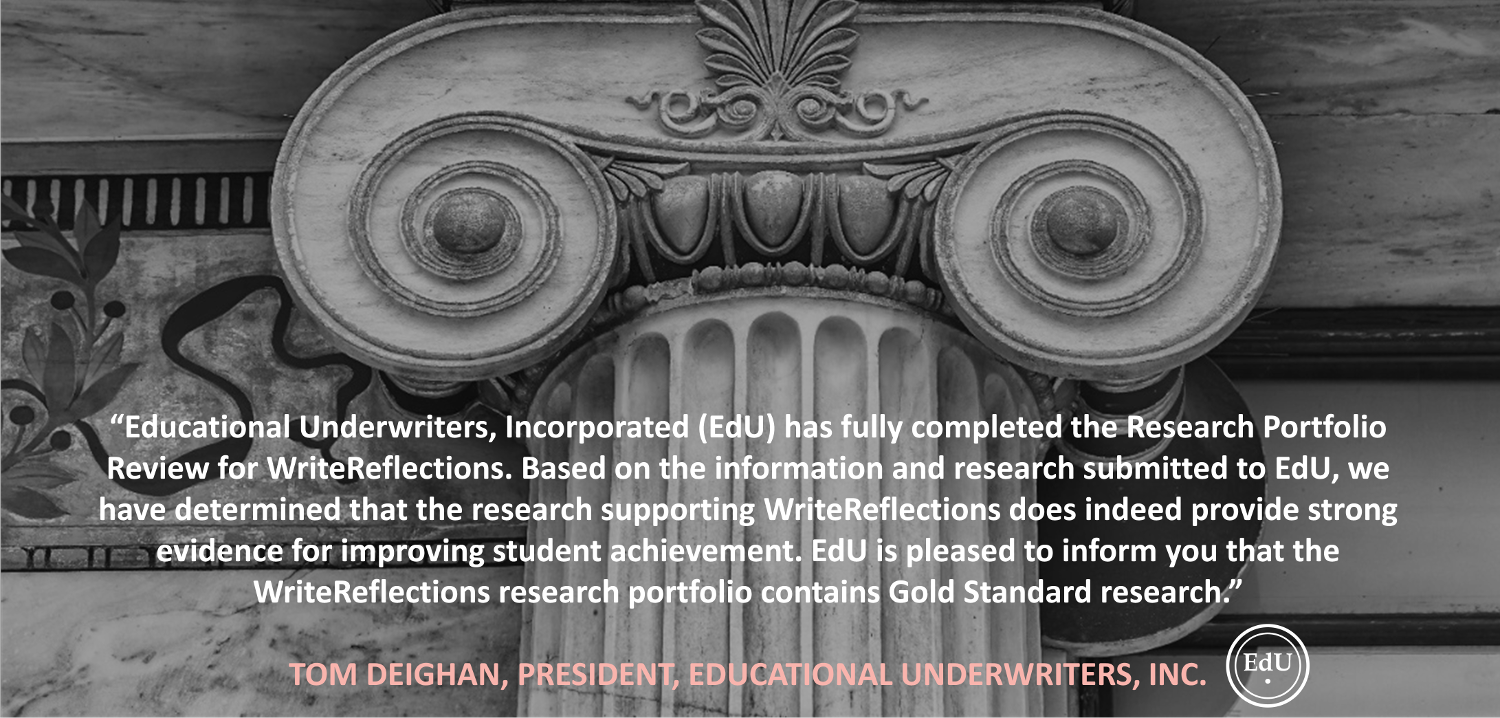 CAROLYNE L. RUCK, ED.D., PROFESSOR EMERITUS, SOUTHERN OREGON UNIVERSITY
Each year, as students progress through the WriteReflections exercises, they add more sophistication and details to their writing until they are writing fluent paragraphs and stories using advanced vocabularies, descriptive language, smooth transitions, and coherent organizational structure. It is as though the spiral nature of the program pulls students along and up until they simply can't help but come out on top. Author Melinda Michalec says, "You will find your students will beg you to teach writing, and they will want to write every day." Now that's an effective writing program!
LISA DANIELS, PH.D., FORMER PROFESSOR, FLORIDA SOUTHERN COLLEGE
WriteReflections was created to meet the challenge of achieving success on national and state tests, while staying true to practices which are supported by research and are in the best interests of students. With this program, the responsibility is evenly distributed so that all grades are working toward a common goal: producing students who can write focused, organized, and detailed essays. It is indeed possible for all students to view themselves as authors as they write, conference about their work, and publish their writing. With the organization of WriteReflections, teachers can take big steps or gradual steps to help students achieve their writing goals.
RAVING FANS ACROSS THE COUNTRY
WriteReflections has been used for over 20 years in schools across the country, by thousands of teachers. Every year, our curriculum delivers fantastic results for teachers and a true love for writing in students. Here is what they have to say…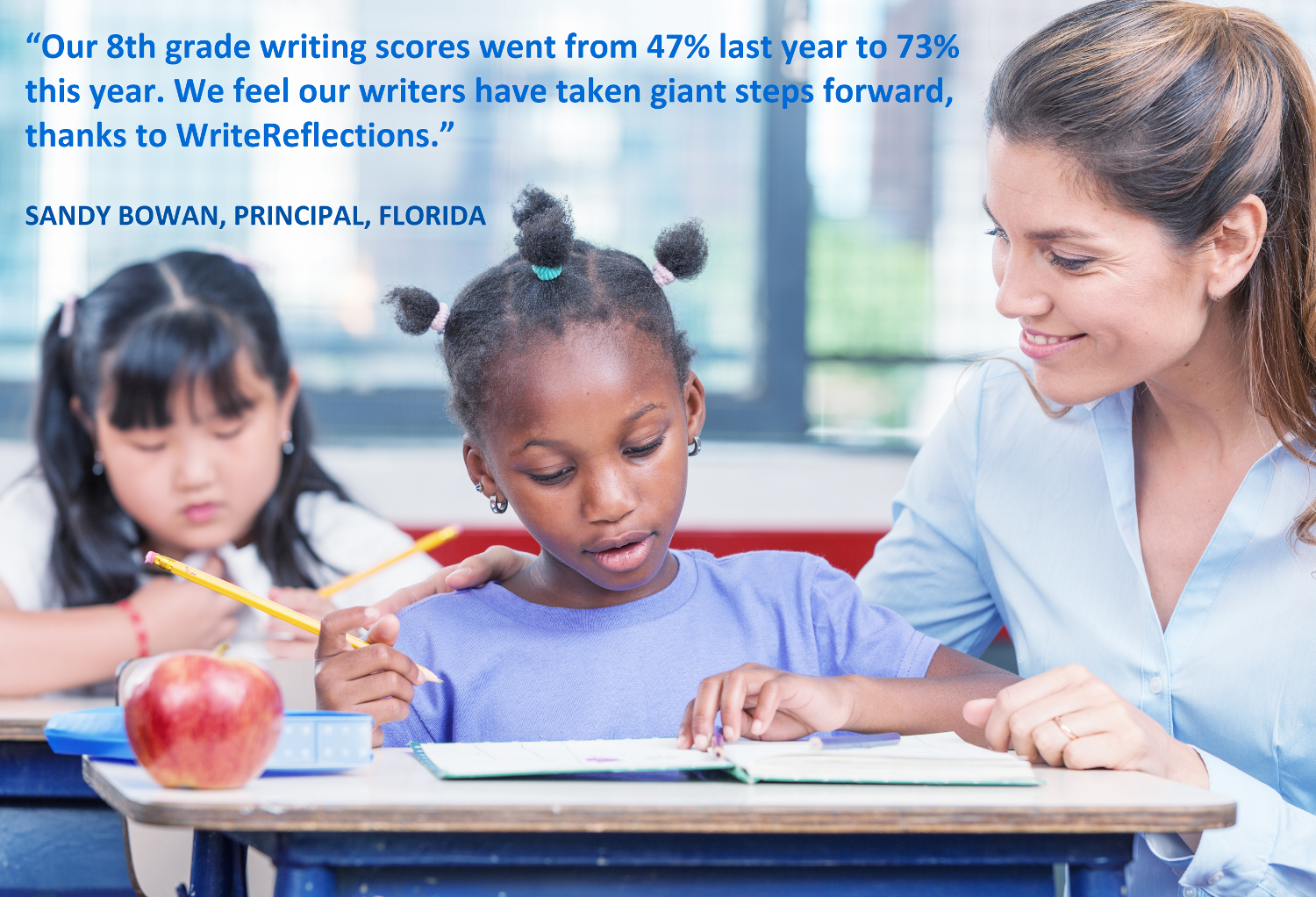 "I just wanted to say that I "Love" your program. I have been using it for the last month with my first graders and they are doing GREAT!!!! Everyone feels successful."
– KRISTEN WALSKY, FIRST GRADE TEACHER, WEST VIRGINIA
"WriteReflections has transformed our elementary school writing program and resulted in amazing 5th grade writing scores on our state test."
– MARY WEBB, PH.D., SUPERINTENDENT, SAPULPA COUNTY SCHOOL DISTRICT, OKLAHOMA
"I received a perfect six on both my 8th and the 10th grade state writing tests! I link my success to your teachings and just wanted to say thanks for helping me, even years later. Nobody can make writing class as fun as you did!"
– ASHLEY MCGAHEE, FORMER WRITEREFLECTIONS ELEMENTARY STUDENT, FLORIDA
"I love the program!! The kids really enjoy when they catch on to adding details in their essays."
– CONNIE ALDERMAN, SECOND GRADE TEACHER, TEXAS
"I just wanted to update you on our WriteReflections journey.  Many of the upper grade teachers have begun piloting the materials. I am getting great feedback. It is really working well in content areas."
– SUSAN SPANKE, CURRICULUM COORDINATOR, MICHIGAN
"I learned to organize my thoughts through webbing and structure, and apply different approaches to new genres of composition. WriteReflections has provided me with the skills, dedication, and passion for writing!"
– MATTHEW BRAGONIER, FORMER WRITEREFLECTIONS HIGH SCHOOL STUDENT, CALIFORNIA
"I just wanted to share our good news. 40% of our 4th graders (deaf students) received a passing score on our state writing test! Our school improvement plan goal was an 11% pass rate. Way to go!!"
– JUDY WILLIAMS, READING SPECIALIST, FLORIDA SCHOOL FOR THE DEAF AND BLIND
"The teachers who have begun implementing WriteReflections are seeing immediate results. The kids are really moving and the teachers are so happy with the positive changes."
– JOANNE FUJIO, CURRICULUM SPECIALIST, HAWAII
"Love, love, love the PowerPoints. They have taken the program to a new level. My students consistently score higher than others in our building and district due to my commitment to WriteReflections."
– THERESA CORCORAN, GRADE 5 TEACHER, SOUTH CAROLINA
"The WriteReflections training was one of the best Professional Development sessions I have ever attended. It was organized, concise, touched on all the important points, and answered all my questions. It was by far in my top 2."
– LAUREN MOORE, TITLE 1 TEACHER, MICHIGAN
"As a Special Education Administrator, I looked for a writing program that was teacher-friendly and effective. WriteReflections was that and more. I found the structure to be scaffolded while providing the rigor necessary for 21st century learning. We have implemented WriteReflections K-12 and are exceptionally happy with the results!"
– KELLY KNUDSEN, SPECIAL EDUCATION DIRECTOR, HAWAII